WORLD'S MOST ACCURATE LOCATION SPECIFIC SOLUNAR TIMES
BassForecast Spot-On GPS Specific Solunar is accurate within one minute of the US Naval Observatory gold standard for lunar positioning. Enter your location, and it does the calculating for you. Giving you the complete solunar coverage for major and minor Bass feeding times for today and the next 10 days.
How Spot-On Solunar Works
What is Solunar?
Solunar refers to the rising and setting times of the sun and the moon, moon phases, lunar and solar eclipses, etc. Peak feeding times are simply based on the position of the moon in relation to your location on the planet. Since time zones are about 1,000 miles wide, most solunar tables can be off by up to an hour as you see on the below map illustrating the difference between two locations in the same time zone.
Forget those old print astro tables and stop doing the mathematical adjustments in order to get times closer matching your location within a time zone. Bass fishing forecast can be much simpler.
Enter your location in BassForecast Spot-On Solunar to get the Major and Minor Feeding Times, along with Sun Rise/Set and Moon Rise/Set within seconds. Our times auto adjust to your GPS position and are accurate within 1 minute of the US Naval observatory moon position.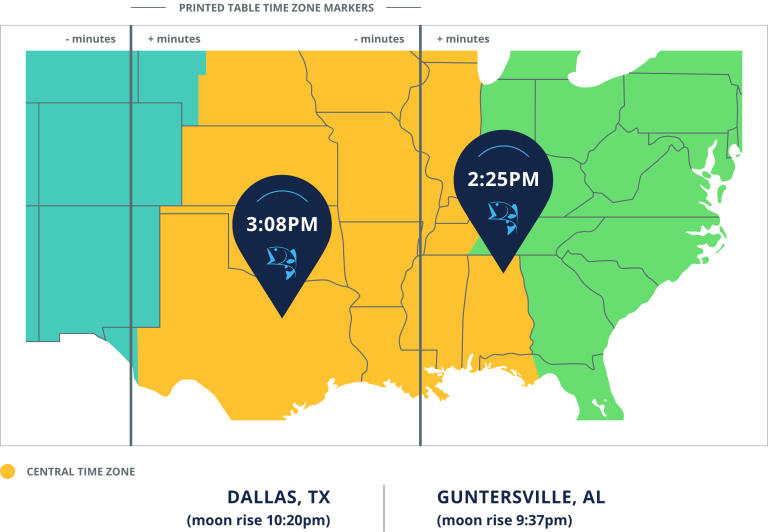 Why use BassForecast Spot-On Solunar for Bass Fishing?
Peak Feeding Times

Our Spot-On Solunar helps to calculate the peak feeding times for Bass fishing. These times are simply based on the position of the moon in relation to your fishing location.

Pinpoint Accuracy

BassForecast solunar fishing calendar and location-specific peak feeding times are more accurate than printed astro/solunar tables that use time zone averages, which could be off by an hour.

Tested & Proven

Our fishing app software was produced by a team of highly trained engineers who thoroughly tested all outputs until accurate within one minute of US Naval Observatory moon position for any GPS location worldwide.

BassForecast Lunker Club
BassForecast has helped thousands of anglers catch their personal best. See some BassForecast Biggens and how they caught 'em. Join the Lunker Club. Great monthly prizes sent to all qualifiers, plus a rod and reel set for each monthly winner.