Top 6 Bass Fishing Records in Kansas (2023 Updated)
The rural areas of Kansas, and even many of its more suburban areas, are some of the most fun places to fish. Clean water, relaxing landscapes, and plenty of high-profile fish species to target are all key focal points of Kansas fishing. 
Unfortunately, the records aren't that impressive, and that largely means that you shouldn't expect to pull monsters out of the Kansas waterways consistently, but there's a positive side to that, too; you certainly won't need to beat a world record to get your name in the record books. 
We'll go over that more later, but for now, let's go over the top 6 bass fishing records in Kansas. 
1: Largemouth Bass Record in Kansas
We already know what most of you are looking for on this list. So, we'll get it out of the way first. Unfortunately, the largemouth bass record isn't extremely impressive in Kansas. 
This 11.08-pound largemouth was caught by Tyson Hallam at Private Pit Lake. While the fish isn't the heaviest, it does have an impressive length of 28 and a half inches for its size, and it wasn't caught using anything fancy. It was a simple jig and pig lure cast with a few varying bumps on the bottom that pulled this hog out. 
The weight won't impress a lot of anglers who have frequently fished in Texas, California, and Georgia. 10 pounders are relatively common in those areas, and a record of 11.08 is just slightly higher than what those anglers would consider a normal whopper or a great personal best. 
However, in Kansas, it's the largest largemouth ever caught, and there's some good news about it. It was caught fairly recently. The catch was made in 2008, and while it shows that people aren't constantly pulling large bass out of the waterways in Kansas, it also shows that the records aren't standing for decades as they do elsewhere. There's plenty of hope in beating the Kansas state record, and it all comes down to whether or not the waterways can produce bigger fish. The species itself gets a lot larger fairly frequently in other locations. 
2: Spotted Bass Record in Kansas
The spotted bass record isn't anything to scoff at considering the species' relatively small size, but it's not near the top records, either. The Kansas spotted bass record was caught in Marion County Lake, and it weighed 4.44 pounds. The length was fairly impressive given its lightweight, though. It was a staggering 18 inches for such a small fish. 
The spotted bass record is an old one, though. It was caught by Clarence E. McCarter in 1977. With this being a fairly small record, and there are decades of time passed since it was set, the hopes of breaking it seems pretty slim. However, it is definitely possible. The world record is more than 10 pounds, and most other state records are around 6 to 9 pounds. So, as long as the spotted bass have time to thrive in Kansas's waterways, it's very possible that a new record could be set at any time. 
Clarence caught this bass on a medium popper with a fly rod. 
3: Striped Bass Record in Kansas
Striped bass can get absolutely massive. Many state records fall into the 50 to 70-pound range. So, again, Kansas seems to be lacking a little bit. The record is extremely impressive and well above the average weight of an inland catch for most anglers, though. 
The Kansas record is a whopping 44 pounds for striped bass, and it was set in 2010 by Paul Bahr. Paul was using a rod and reel with live shad when he hooked into the big guy, and he made that catch at Wilson Reservoir. 
As we said, striped bass can easily get up to 70 pounds while landlocked, and they get even larger when they can get out to the ocean. So, there's plenty of room for a new record to be set, and this record is only 12 years old. So, the hope of shattering that record is still well alive. 
4: Smallmouth Bass Record in Kansas
The Smallie record in Kansas is a little more impressive than the other ones we've mentioned. While all of the records so far are far behind the average record in other states, the 2010 record set by Frank Evans Junior is much closer to the average. 
Frank's Smallie weighed 6.88 pounds and was longer than 21 inches. That's larger than the Smallie records in other states, and it's just beneath the 7 to 8-pound average record. 
Frank caught this Smallie at Wilson reservoir using a rod and reel with a jerk bait. 
5: White Bass Record in Kansas
The white bass record is far more impressive than the other records on this list. White bass is very small, and the average white bass only weighs a little over a pound. For all intents and purposes, they're just slightly more impressive than your run-of-the-mill panfish. 
In 2002, Marvin W. Gary caught a whopping 5.67-pound white bass longer than 20 inches, and it was caught at John Redmond reservoir. This is abnormally large for white bass, and it's likely a record that will stand for quite some time. 
With white bass being a smaller fish, Marvin also caught it on a simple Roadrunner lure frequently used for smaller fish with a simple retrieval pattern. This just goes to show that you don't have to get complicated to break a record. 
6: Warmouth Bass Record in Kansas
Warmouth isn't really a bass species, but it looks close enough that most anglers have considered it a sort of miniature, honorary, part of the bass family. 
These don't get much bigger than your run-of-the-mill bluegill. So, the 1.11-pound Warmouth record set in 1988 is fairly impressive. 
The record was set by Vivian A. Bradley using your traditional bobber and worm setup. Given the timeframe and the type of fish being targeted, that makes perfect sense. However, panfish lures are believed to consistently pull in larger panfish of various species. So, trying some modern panfish lures might be a good way to beat this long-standing record. 
What This Information Means for You
Alright, the Kansas bass fishing records don't tend to be the most impressive when it comes to the highly sought-after species that most anglers consider sport fish. However, that leaves the potential for record seekers, and some of the smaller fish have extremely impressive records that really make Kansas records stand out; even if they're not exactly on par with prime fishing spots around the country. 
There is quite a bit you can learn from the bass records in Kansas, too. Kansas is pretty good about recording the gear used to catch each record, and they take more complete records than other states. 

Here are some key points we gathered from the Kansas record books. 
State-Wide Productivity: 
Wilson Reservoir showed up a few times in the records, but unlike states like California, Kansas actually has records set all over the state. Especially if you consider fish species that aren't bass. You don't have to worry about traveling across the entire state to reach one renowned spot just to stand a chance at breaking a record. You can reasonably target records at any of the more well-managed spots across the state. 
Regular Record Setting: 
There are some long-standing records, such as the warmouth record set by Vivian in 1988, but most of the Kansas records have recent entries. That's a good thing. Records that stand for decades tend to be ones that are near the peak of a species' weight limits. For example, the world-renowned George Perry catch that held the record for almost a century was basically an anomaly. 
With Kansas having records that aren't jaw-dropping, they're still practical to beat. This is good news for record hunters. Largemouth bass can get up to 22 pounds or more, and striped bass can get into the 70-pound range. That is a lot higher than either of their respective records in Kansas; meaning you can reasonably expect to not only get your name in the books but to also shatter the current records given a bit of luck and determination. 
With the smaller fish species, it's probably a lot more likely that their current records will stand for decades to come. The white bass and warmouth records are at the peak of what the species is known to reach. Any new records will likely be made by mere ounces instead of pounds. 
Varied Catch Methods: 
When you look at states like California, and you see every record being set with fancy lures and setups, it can be a little discouraging. What's worse is when an angler doesn't share the gear they used under some superstitious idea that anglers will magically replicate their catch (Yes, certain lures are better than others, but back-to-back record breakers on the same lure are basically unheard of. Don't be unreasonable). 
Kansas shows something much different than other states. Many of its records were set with regular old live bait. Not complicated rigs or specialized live bait, either. We're talking about good old shad or worms on a basic bobber or sinker rig. So, even if you're not the most talented lure presenter, you can still stand a decent chance at breaking a record, and the records show that. 
With that being said, lures have also been pretty productive in Kansas, and the ones that set records weren't anything special. They were just regular jigs, spinners, and other common cheap lures that anyone can learn to use effectively with basic equipment. 
How to Get Yourself in the Kansas Record Books
Kansas has some fairly straightforward guidelines for getting into the record books, and if your personal scale shows you have a record breaker, it's definitely worth rushing off to get it officiated.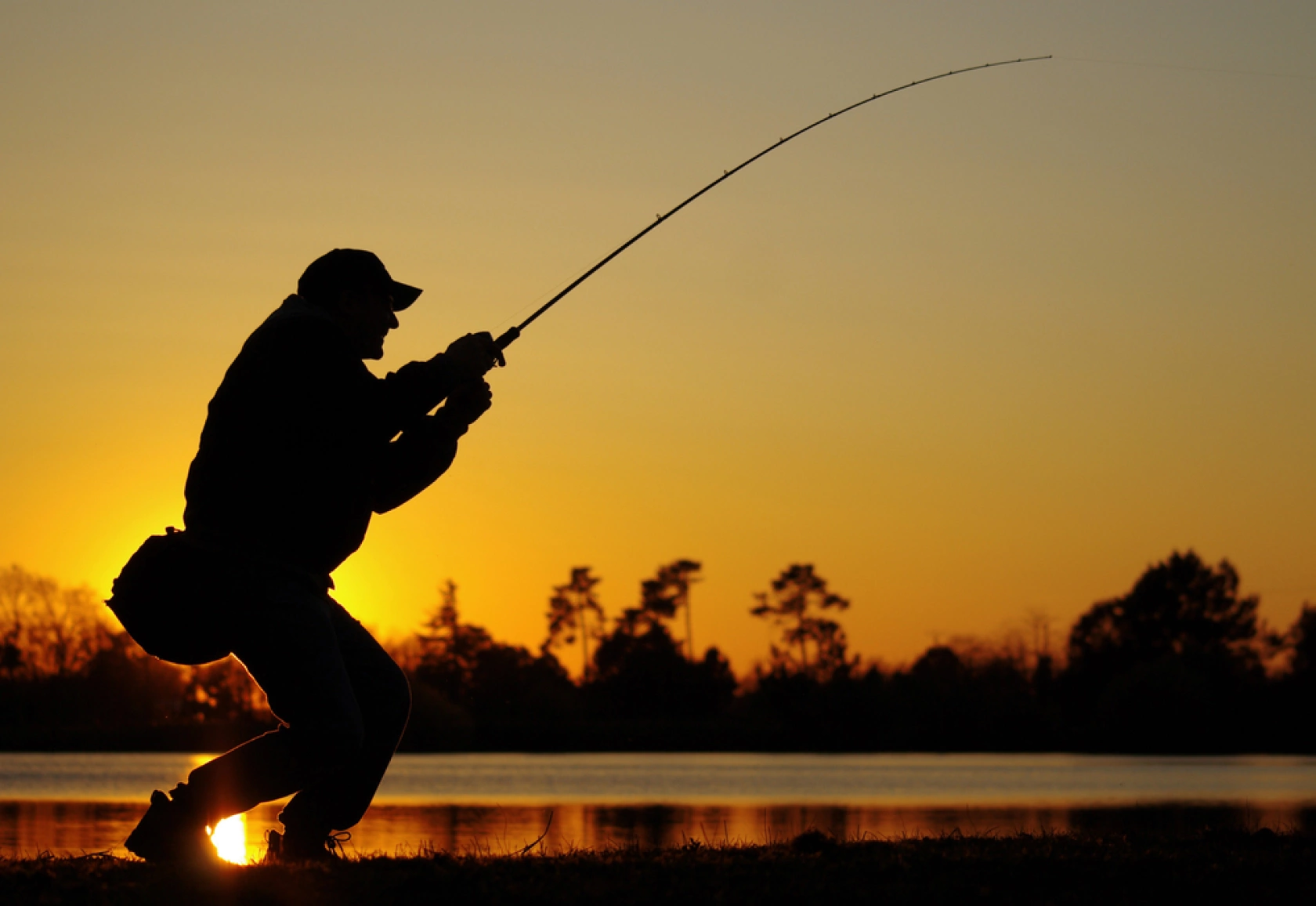 With that being said, here are all the things you need to do if you want to properly report your catch. 
Have a License: 
This goes without saying, but you need to have a valid fishing license to report a record-breaking fish. We really shouldn't have to say this, but there have been situations where unlicensed fishermen have tried to report a record, and they didn't do much more than get themselves a massive fine and legal problems; on top of not getting put in the record books. 
Make sure you purchase a license. 
Report to an Official Authority: 
Kansas allows you to report your catch to one of three easy-to-find officiators. You can report directly to the Kansas Department of Wildlife, Parks and Tourism biologists that are on-site, or the fishery's manager. One of those three entities has to be reported to if you want to get put in the record books. 
This can make things a little rough. Some states allow anyone in charge of a certified scale to officiate the catch, but it's still not complicated. Phone numbers are posted, and the center at any official fishery will have a manager available. 
Use a Certified Scale: 
After reporting the catch to an appropriate authority, you need to use a certified scale to weigh it. These are available in different businesses, and any fishery with a center (where you'd find the fishery's manager) will have one. 
Apply: 
Now, you need to make a formal application with all of the information you've gathered and the reports you've made. You can download the application, or the owner of the certified scale will have them available. 
You will have to have a photo of you with the fish before you apply, and it must accompany your application. The weigh-in must also be done before you freeze the fish. Once you freeze it, the fish is disqualified. 
Finally, you might have to submit a tissue sample of the fish. This isn't always required, and you'll be filled in about whether or not you need that when you apply. 

If you want to maximize your fishing experience and set a new bass fishing record in Kansas, download BassForecast fishing app - #1 anglers' tool!