Top 4 California Bass Fishing Records EVER (2022 Updated)
California might be known for sandy beaches, surfer culture, and a large diverse set of cultural influences in food, art, and music, but there's another thing it's known for that has nothing to do with any of that, its bass fishing scene is tremendous. 
California is not only home to some of the largest bass catches in the country, but it has also produced some of the largest bass in the world. 
If you're an angler looking for some intense bass fishing action, you absolutely must take a trip to California to see what you can sink your hooks into. 
Today, we want to illustrate just how great of a bass producer California can be by listing off its extremely impressive bass records one-by-one. These are in no specific order, and we'll title each entry in a way that describes its record for you to pinpoint which ones really interest you. 
Also, each California bass fishing record will be detailed as much as possible so you can pick up on a few learning points that we'll highlight after we get done giving these once-in-a-lifetime catches the spotlight. 
Let's get started. 
1: Dave Zimmerlee: 20.15 Pounds
We're going to start this list off with an official state record surrounded by controversy. In 1976, Dave Zimmerlee left the dock in San Diego with a Zebco 100 Spincast, and he came back with a massive, 20.15-pound, record-shattering bass. The bass wasn't just a massive fish. It was the largest fish caught in California, and it was the second largest bass caught in the world. 
As such, Dave immediately fell under extreme scrutiny. The bass wasn't caught as part of a tournament or in any other official capacity, and some "eyewitness" accounts added some skepticism to the catch. 
While Dave did take the fish in for weighing, and it indeed shattered the weight limit, some fishermen immediately called the game and wildlife department to voice some complaints. Apparently, they had seen a massive bass floating on the surface while they were out fishing that day, and a couple of them claimed to have seen Dave simply scoop the fish up with a net as it was dying. 
Obviously, that means more than just potentially delegitimizing the catch and leaving the record moot, it also shows an extreme lack of sportsmanship, potentially on both sides of the situation, and an excessive lack of ethics if the claims are true. 
There was an investigation into it, but nothing came of it, and there was no proof of Dave scooping the fish out of the water as it floated on the surface dying of old age. It could be true, but it could also be the wild claim of jealous fishermen refusing to believe he caught such a trophy on a Zebco. 
Either way, the fish is a California bass fishing record, and it's among the top bass caught around the world. 
As an added note, this catch brought Dave Zimmerlee a large amount of fame and notoriety, as the fish ended up on the cover of magazines, he netted a payday, and he got bragging rights, but many skeptical fishermen still call foul on the catch.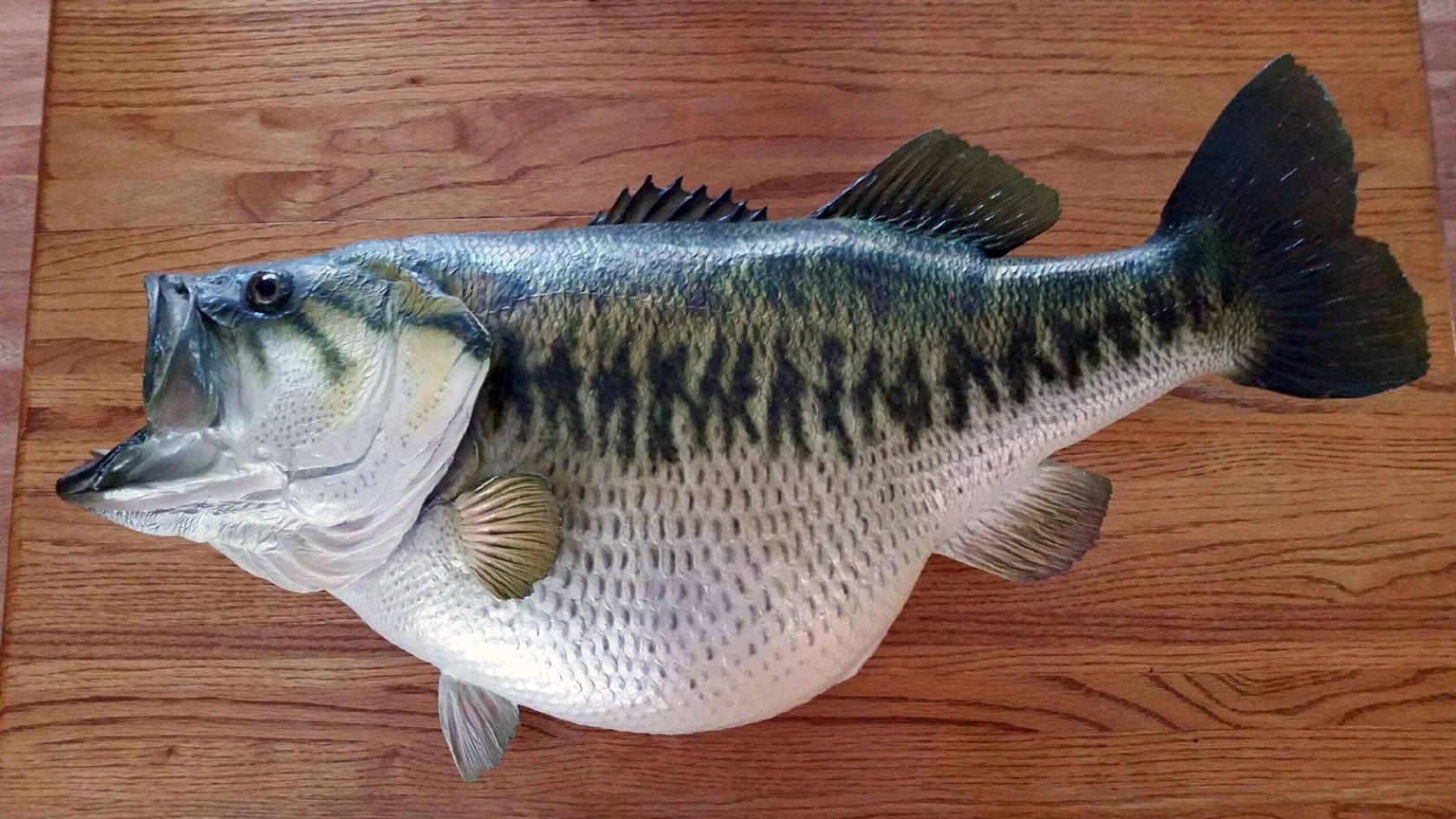 Picture Source: sdfish.com
2: Johnny Garduno: 20.4 Pounds
This is another controversial catch, but we wouldn't call it as controversial as the previous one.  As you'll see, the claim made against it is fairly outlandish. 
Anyways, Johnny Garduno set out for a day of fishing at Miramar Reservoir in San Diego when his life changed forever. 
On live bait, Johnny pulled in a 20.4-pound bass and immediately set out for the weighing station to get it, and his name cemented in the record books. It weighed in, officially, at the claimed weight, and it was entered into the California state records, along with the perks that come with getting your name entered into the record books. 
However, shortly after Johnny made the catch, he had a similar issue pop up as Zimmerlee did. A handful of local fishermen came forward, almost immediately, to claim that the catch was not only illegitimate, but it was also illegal. 
The claim was that Johnny Garduno was trout fishing, and as such, he had a stringer of trout in the water. The massive bass allegedly took a swipe at the stringer while Johnny was nearby, and Johnny simply scooped it up with a net. 
Now, if you've been bass fishing for any length of time, that probably sounded a bit strange to you. Bass move extremely quickly, fishermen are rarely ever just walking around with a net in hand by the previous catches they're saving for dinnertime, and even if they are, it's highly unlikely that everything will line up perfectly for the angler to slip a net under the fish and scoop it out of the water in the blink of an eye. 
So, the claim of the catch being falsified isn't the easiest to believe, and there's a reason it went into the California bass fishing records without an investigation. In all likelihood, it's probably a case of fishermen not showing good sportsmanship and claiming ethical infractions to keep an almost unbeatable record from being set. 
If the claims are true, Johnny Garduno is probably one of the most ninja-like anglers to have ever gotten on the water. 
3: Sandy Defresco: 19.063 Pounds
This is the oddest record you're probably going to find in the bass fishing world, and while it's controversial, the angler who caught the bass is expunged from any foul play. So, his record stands, and it is credited in the official record books. 
Sandy Defresco was a concession worker at Miramar Reservoir in 1988, and on March 14th of that year, he decided to go fishing once his work duties were taken care of. Heading out with some basic fishing supplies, merely expecting to enjoy an afternoon of fishing, he reeled in a massive 20.10-pound bass. At the time, this would have been the new California state record, and it would have been just shy of beating the world record. However, there was something a little off about this bass. 
First, it had been caught by a CPR (Catch, Photograph, and Release) fisherman just two weeks prior and weighed before its release. The fish was not entered into the California bass fishing records, but it was on file, and it was more than two pounds lighter upon its original catch date. When Sandy caught it, he wanted to be credited in the record books, and he got it officially weighed before sending it off to a taxidermist for a replica to be made. 
Once the taxidermist got ahold of the fish, he found a 2.5-ounce lead diving weight in the fish's gut. When this was first discovered, it was thought that Sandy had potentially placed the weight in the fish to increase its weight, and Sandy's record was almost rescinded. However, the taxidermist was quick to note that the weight had tissue growing around it that matched up with it being in the fish for about two weeks. 
This started a massive string of theories as to how the weight got into the fish. Did the diver put it in the fish and hope to hold it captive for another, more impressive catch? Did Sandy use his position at Miramar Reservoir to sabotage the fish and claim it for himself later on? How did this largemouth get a 2.5-ounce diving weight lodged in its gut and then caught just two weeks after being recorded the first time? 
There were a lot of questions surrounding how the weight got there, but Sandy was more or less ruled out as the cause of it, and he was credited with the official weigh-in of the fish, and his name went in the record books. 
However, officials only entered his name in the California bass fishing records after accounting for the 2.5-pound weight increase and removing it from the total, hence, he is officially credited with a 19.063-pound bass. It's not quite as impressive as Sandy originally thought, but the strange story surrounding it, and the fact that it's still massive, help ease the blow a bit. 
4: A Potential New World Record: 25.1 Pounds
In 2006, Mac Weakly could have crushed a 77-year-old world record set by George Perry in the 1930s. He landed a 25.1-pound bass, subsequently named Dottie and believed to be the same bass he'd caught at 21 pounds just three years earlier. 
While this is not an official record, for reasons we'll highlight later, it is one that is off the books and certainly an astonishing feat. 
Mac caught the monster at Dixon Lake with two of his friends one Monday morning in 2006, weighed it on a handheld digital scale, and released it back into the water. Immediately, he gained national attention from the fishing world and beyond. Everyone remotely interested in fishing records sat by with bated breath to see if the world-renowned George Perry record would finally be shattered. 
However, there were some issues with it.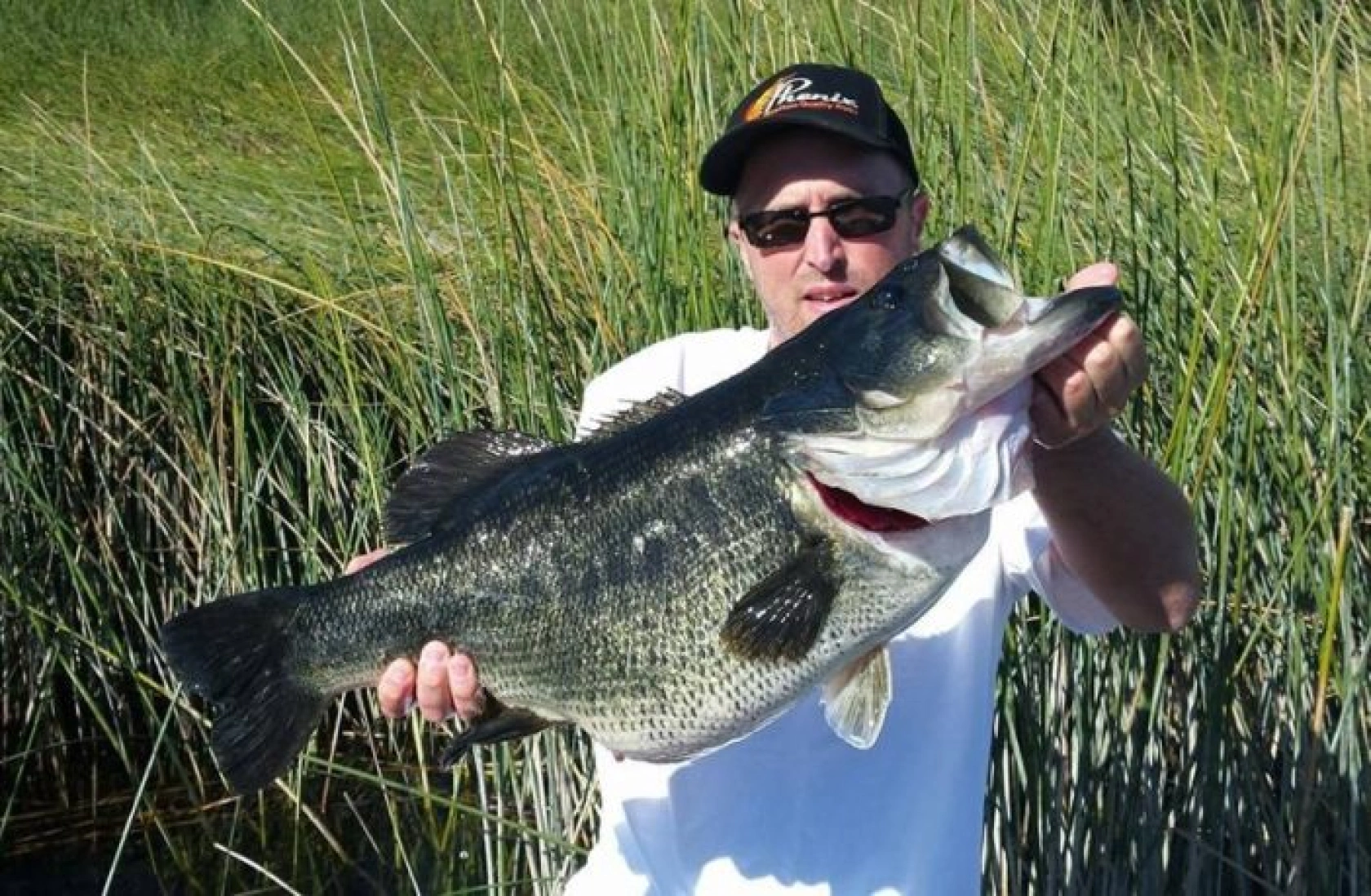 Picture Source: sdfish.com
First, Mac foul-hooked the fish. This is when the hook isn't properly set in the side of the jaw, but instead gets hooked elsewhere or even gutted. 
Then, it wasn't weighed on a certified scale in front of officials. He simply weighed it on camera with his own digital scale. 
Finally, Mac and his friends didn't bother with measurements to prove its length and girth. As catch and release fishermen, they were more interested in getting the beauty back into the water. 
None of those things disqualified Mac from getting his name put into the record book, though. Officials were still examining all the information available to verify the catch and document it. 
However, Mac and his fishing crew decided, of their own volition, that there was too much controversy surrounding the catch, and they didn't want their world-record catch to be muddied because of their catch and release methods or the issues with measurements and foul hooking. So, they decided not to pursue the record. 
Had they put ethics aside and had it entered, they'd likely be sponsored by several national brands. 
Perry's record has been officially broken, though.
If you were wondering, Mac caught the beast on a white-skirted jig. 
How Does Any of this Help You?
Today, we covered four of California's bass fishing records. There are countless records in the teens, and plenty more that cover circumstantial catches such as youth catches, double catches, and more, but these four all highlight one theme, the after-effects of catching a record-breaking bass, and just how complicated it can be to have a bass entered into the record books. 
As much as we'd like to tell you that a world-record bass catch means you get a bunch of glory and fame, it's actually a bit more stressful. Many of the country's record breakers face a ton of backlash and controversy, whether it's warranted or not, and that sort of thing can easily sour such an awesome experience. 
There's a good reason for those things happening, though. Many "record breakers" have falsified their catches and gotten caught in the act. There was one California fisherman who tried to claim a catch just weeks before Zimmerlee did, and the market he cited as his weigh station didn't even have a scale. 
On top of the problems with other fishermen, you also have to remember how to fish for bass properly. This means that you cannot net in opportunistic catches, you have to watch for foul hooks, and if you plan on having your fish recorded, you need to take proper action to ensure you're doing everything by the books. Otherwise, your catch of a lifetime might be struck from the records. 
If you want to learn more about fishing for trophy-sized bass, or just how to get better as a fisherman, check out BassForecast.