Where To Fish For Bass In Texas? TX Bass Fishing Guide
If you are a fishing enthusiast looking for the perfect place for bass fishing, Texas is the place to visit as this state is the home to 36 rivers and 6,736 lakes and reservoirs. Hundreds of lakes are available for tx bass fishing, waiting for you to explore them and to catch the "trophy."
They say that everything is bigger in Texas, so it's not surprising that fishing is quite popular here, as many largemouth bass fish live here. Generally, the bass is one of the most popular and most numerous fish species here. However, the bass is not the only one; there are many other species of fish, as well.
So, if you are ready for bass fishing in Texas, here's the ultimate bass fishing guide on where and when to fish for bass. Let's start with more words about bass species.
What species of bass live in Texas?
Bass is the broad name for the closely related freshwater fish species that share a number of characteristics, such as voracious appetite. 
The most popular freshwater game fish in the world is the black bass, without a doubt. The credit for this goes just to their voracious appetite – they will bite every bait and, thus, give you the good fight.
Black bass are widespread in Texas. The most popular species of black bass are: 
Largemouth bass - the most popular bass species among anglers. They are the largest of all basses, and you can recognize them by their upper jaw that extends past the eye when the mouth is closed. It is typically olive-green to greenish-gray color; it has dark mid-lateral stripes or blotches from the top of the mouth to the caudal fin.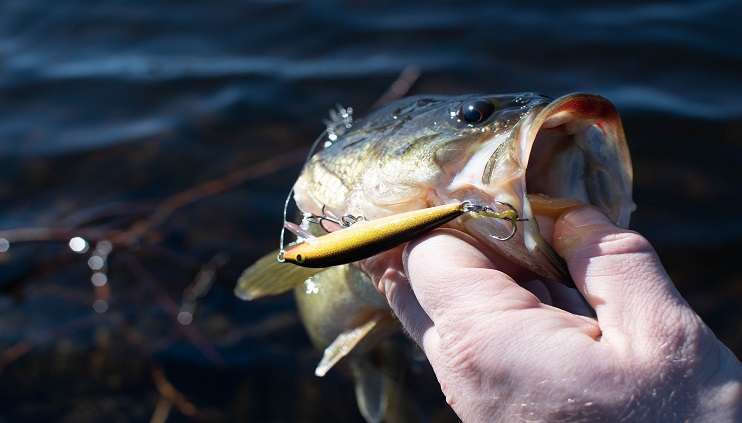 Smallmouth bass - the toughest fighting fish and very powerful swimmer. Unlike largemouth bass, its jaw doesn't extend past the eye. The color of the smallmouth bass is brownish-green color, while the belly area is white. You can also recognize them by their dark brown vertical bars along the body and horizontal bars on the head
Spotted bass - got its name because of the small black spots below the lateral line. Although similar in color to largemouth bass, it has a smaller mouth. Also, unlike smallmouth bass, it doesn't have vertical bars.
Guadalupe bass - a rare species of fish endemic to Texas state, listed as nearly threatened and typically found in rivers. Sometimes it's hard to distinguish it from the other similar bass. Guadalupe bass is generally green, but coloration extends lower on the body, it doesn't have vertical bars, and its jaw doesn't extend past the eye.
Besides black bass, there can be found the species of temperate bass: 
White bass - easily recognizable by its white color and faint stripes, with only one stripe extending to the tail. They have a deep body, more than 1/3 of its length. They have one tooth patch near the midline towards the back of the tongue.
Yellow bass - recognizable by their silvery yellow color and joined dorsal fins. Their stripes are distinct and broken above the anal fin. Yellow bass doesn't have a tooth patch near the midline towards the back of the tongue.
Striped bass - has stripes that are very dark and distinct, and several of them extend to the tail. They have a slim body that is less than 1/3 of its length. Also, striped bass has two distinct tooth patches near the midline towards the back of the tongue
Hybrid striped bass - also known as Palmetto or Sunshine bass. Their body height is more than 1/3 of its length. Their stripes are distinct, usually broken, and several of them extend to the tail. They have two tooth patches, and they can be separate or close together.
So, those were common bass species located in Texas. Now let's see where and when it is best to fish for bass.

TX bass fishing guide: where and when to fish?
The most important thing about bass fishing in Texas is to know precisely when and where to fish. 
The best place is where you can have the best catch of the desired bass species, and the best time is the time of the year when the fish are naturally more active. Weather conditions, tides, Sun and the Moon, can all influence fish and fishing activity. 
So, the best time for fishing is typically:
1h before and 1h after high/low tides

In the first hour after the sunrise and just before and hour after the sunset 

During the rise and set of the Moon.

When the barometer (which measure the atmospheric pressure) is steady or on the rise

When the breeze is coming from a westerly quarter 

When the water is rippled
 Now let's see what fishing spots in Texas are the best for bass fishing.
 Where to fish for bass in Texas?
 As mentioned before, Texas is a state of hundreds of lakes and rivers available for bass fishing
The best lakes for TX bass fishing 
Sam Rayburn Reservoir is located on the Angelina River in East Texas. It's one of the best lakes for catching largemouth bass and generally the anglers' favorite lake for bass fishing in Texas. The largest largemouth bass caught here was 16.8 pounds and 28.75 inches long. However, the anglers are not limited to this bass species only, and the white bass can be found here as well. The lake is open for fishing year-round, although the number of bass decreases during the summer.
Lake Fork is on every anglers' list when it comes to the best lakes for bass fishing in Texas. Located east of Dallas, it's a very popular fishing spot, but it is well protected from overfishing. Largemouth bass can be commonly found here as well, and the white bass here tends to be larger than usual. Quite small yellow bass can be spotted here during the winter months.
Lake Amistad is located in West Texas on the US border with Mexico. Here you can find more bass species - largemouth, smallmouth, striped, and white bass. Smallmouths can be caught near Devils River, and the largest one caught weighed 45 pounds and was 44 inches long. White bass are incredibly active during the spring as it's the spawning period and they are going upriver.
Lake Texoma has numerous fish species, which makes it one of the best bass fishing lakes in Texas. Its over 70,000 acres are located 1,5 hours north of Dallas. Unlike the previous best lakes for bass fishing in Texas, the most popular species here are striped and smallmouth bass. Other bass that can be seen here are largemouth, spotted, and white bass.
Lake Falcon, also known as the Falcon International Reservoir, is located in South Texas, tucked into Rio Grande lake, bordering the US and Mexico. On the 83,654 acres of lake, you can commonly find the largemouth bass and barely the white bass. During the summer, temperatures are very high, so most anglers come fishing here in the winter.
Choke Canyon Reservoir is another place in South Texas, located between Corpus Christi and San Antonio. It's a secluded area surrounded by untouched land, perfect for peaceful bass fishing. Here you can easily catch largemouth bass as they mostly range between five to ten pounds, although the largest one caught was almost 15 pounds.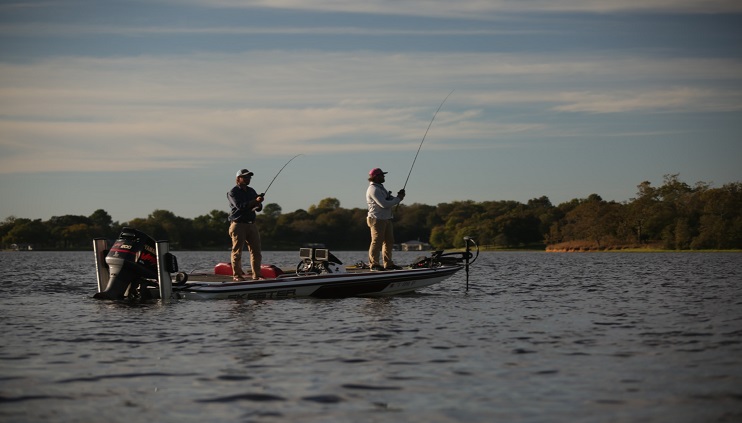 Although not as widespread as largemouths, white bass are also popular here. In winter, they can be found in the Frio River channel before swimming upstream and spawning. In springtime and summer, they can be found closer to the north shore in deeper water. 
Lake O' the Pines is located in East Texas, on Big Cypress Creek in the Cypress River Basin. Spread over 20,000 acres and tucked among a myriad of pine trees, this lake is an amazing spot for fishing, boating and camping. There are plentiful largemouth bass, but you will also find plenty of white, yellow, spotted, and striped bass. There are limits on most of these fish, but there are none on the yellow bass.
The best rivers for TX bass fishing
Devils River is one of the best river and fishing spots in the state. It's located in southwest Texas and it can be challenging to access the fishery because of the remote location. However, once you get to the clear water and stunning nature, you will enjoy fishing for largemouth and smallmouth bass every minute.
Brazos River is one of the longest rivers in Texas and through much of its course, you can spot the largemouth, smallmouth and spotted bass. There is also one specific location - below the lake Whitney - where there are great chances of catching smallmouth bass.
Llano river runs in central and west-central Texas. The river is known for its beautiful hill country scenery and a unique species of fish - Guadalupe bass, which can only be found in Texas. The section between Junction and Castell is turned into a fantastic Guadalupe bass fishery. Area downstream through Castell is known for the bigger fish and this is where you can find largemouth bass.
Colorado River is another fishing spot where you can catch the Guadalupe bass. The biggest ones can be caught in the location between Austin and Columbus.
Lastly, in southeast Texas, the Neches River near Beaumont offers a large population of largemouth bass when the conditions are right. Also, north of Beaumont, spotted bass can be found.
Now that you know the best fishing lakes and rivers for bass fishing in Texas
When is the best bass fishing weather in Texas?
The best weather for bass fishing depends on the season, temperatures and wind. All of this affects the bass behavior as well as the bait you should choose.
On cloudy and windy days, they tend to be more active, expose themselves and act aggressively. When the weather is warm, bass are more active; unless it is over 95 degrees for several days in a row. They tend to cover and attack the prey surprisingly. In the first case, the best option are moving baits like spinnerbaits and chatterbaits, while in the second better option is bottom bouncing a jig or Texas rigging a soft plastic.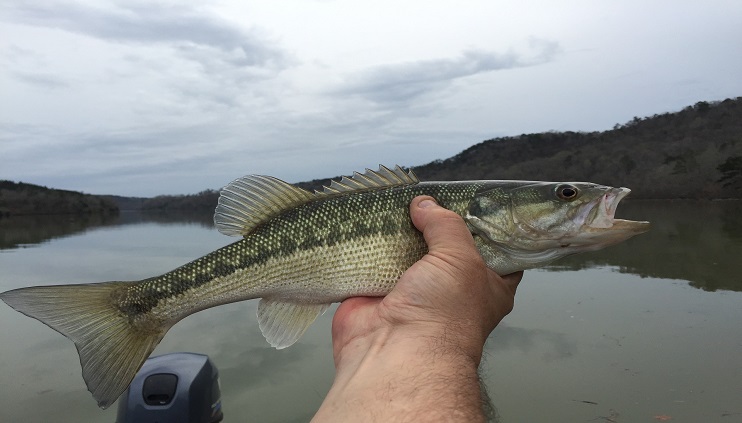 Also, the time of the year and water temperature can drastically affect the behavior of bass and how they eat. Warm water implies you should use faster-moving baits. On the other hand, when the water is colder, you should use slower moving baits.
The wind is your fishing ally: it can provide you with more productive fishing as it will stir up the fish, and the bait will be picked up.
Now let's go quickly through the seasons to see when it is the best to go fishing for bass.
Winter Season
As the days are short and the temperature decreases in winter, bass tend to go deeper and warmer. They are not that active in the winter - they tend to be sluggish, their metabolism is slower and there are extended periods between their meals.
Spring Season
Spring is a great season for catching bass, especially largemouth bass. It is spawn time, so bass move into the shallow water to breed. They tend to stay in covered areas to lay and protect the eggs. First, a female will lay the eggs and, then, a male will fertilize them. Males usually stay to guard the fry, while exhausted females go to deep, dark and cold waters to rest.
Summer Season
Hot weather and long daylight make bass move out of shallows and go into deeper waters. They will be scattered around at first, but eventually, they will group to chase for baitfish. At less warm times of the day, such as early morning or evening, some of them may move in shallows to feed, so if you enjoy the night fishing, you can have a good catch.
Fall Season
When the weather is colder and the water of lakes and rivers is cooler, bass become very active and aggressive. They are starting to prepare for winter, aggressively hunting for prey to gain as many calories. Bass tend to be scattered and hard to catch, so you can try fishing in green weeds or around piles of rocks.
So, as you can see, every season has its rules to follow. Spring and fall are the seasons when the bass is most active and present in shallow water, so those may be the best times of the year for bass fishing.
Are there any bass fishing tournaments in Texas?
As Texas is known for many fishing spots and bass species, you don't have to guess twice if there are any bass fishing tournaments there.
For example, many tournaments are hosted at lake Texoma, including the Fisherman's Choice Championship and Bass Champs North. Then, Guaranteed Rate Bassmaster Elite and BASS. Nation Kayak Series powered by TourneyX at Lake Fork. Many tournaments are also held at Sam Rayburn reservoir, lakes Falcon and Amistad, and many other places.
TX bass fishing app - get your ultimate fishing guide to know where the fish are.
The bass are very sensitive to any changes in their environment and they tend to change their behavior in accordance to them. To keep up with those changes, you need the ultimate fishing guide so you can always know when and where to fish.
Download the BassForecast Fishing App and with our 100% accurate fishing forecast:
Keep track of Barometric Pressure, Moon Phases, Sky Conditions, Wind, Temperature, and Peak Feedings.

Plan your fishing activities better knowing the best odds 10 days in advance
Get GPS specific and accurate Spot-on Solunar

Get top locations and lures suggestion

...and one thing for sure - CATCH MORE FISH!
Know – Adapt – Catch® more with BassForecast.