Top 4 Bass Fishing Records in Iowa (2022 Updated)
Iowa doesn't come up too often when anglers are discussing the top spots for bass fishing, but it's among one of the most fisherman-friendly places in the country. 
Iowa has plenty of well-maintained fisheries, regulations that favor anglers while helping to conserve natural resources, and a record system that helps ensure validity without putting too much pressure on anglers. 
Some of Iowa's records are well behind the rest of the country, and some are high-quality records built to last. We're going to go over the top 4 bass fishing records in Iowa and a few things to help you get into the record books. 
Let's get started. 
Largemouth Bass Iowa Bass Fishing Record
The largemouth bass record for Iowa is one of the smaller largemouth records in the nation, and it's longstanding. 

It was set in 1984 by Patricia Zaer at Lake Fisher. The fish was a modest 10.75 pounds, and the gear used to catch it isn't in the record books. 

This record doesn't do much to show off Iowa's bass fishing. 10-pound largemouth is fairly common, and while they're a blast to catch, they're typically not record-breaking fish. Coupled with the age of the record, it's fairly easy to see that the monster bass sport fishermen are after probably aren't going to be caught in Iowa.

Rock Bass Iowa Bass Fishing Record
Rock bass isn't a true bass species, but it's often lumped in as a sort of panfish cousin to the big bucket mouths everyone knows and loves. Iowa has a great record for it, too. 
Rock bass doesn't get big. So, the 1.5-pound rock bass caught by Jim Driscol in 1973 is a pretty impressive catch. It's in line with the larger records around the nation, and there's a reason it has lasted for just under 50 years, it's unlikely that a larger rock bass is going to be caught unless it's only an ounce or two larger. 
You also have to consider the fact that rock bass isn't usually thought of as record-worthy fish. So, it's possible that bigger rock bass has been caught, shocked the angler a little bit by being abnormally large, and got thrown right back. 

Smallmouth Bass Iowa Bass Fishing Record
Iowa's smallmouth bass record is much more impressive than its largemouth record. It's a 7.75-pound bass caught in 1990 by Rick Gray at Okoboji Lake. Smallies tend to be quite a bit lighter than largemouth bass, and the 7.75-pound record is on par with the records in most states; for reference, the world record is only a little over 11 pounds. 

There's plenty of room to catch something bigger without having to catch a new world record, but it's still likely to be a longstanding record in the state of Iowa. Most Smallies caught in-state are roughly 3-4 pounds. 
Spotted Bass Iowa Bass Fishing Record 
The spotted bass record in Iowa is a lot like the largemouth record. It's a mere 2.06-pound bass caught by Davis Horton in 2021 at Lake Macbride. For your reference, spotted bass can reach up to 11 pounds, and most state records at least approach 8 pounds. 

This can show two things. First, there's the obvious question of whether or not spotted bass fishing in Iowa is good. Then, there's the question of whether or not it's taken seriously. 
The good news is that Davis Horton got the fish put in the record books, and it's a brand-new record. Knowing that spotted bass gets a lot bigger, this could entice other anglers to start weighing their spotted bass catches and work towards a higher record. 
Iowa Record Hunting Rules and Regulations
Iowa is one of the more lenient states when it comes to how it handles the recording process. Everything is officially handled by the Iowa Department of Natural Resources, and while the requirements are taken seriously, they afford anglers a bit more flexibility than in several other states. 
If you're looking to beat one of the bass fishing records in Iowa we talked about, here's what you need to know. 

License Requirements: 
A valid Iowa fishing license is required for anyone fishing in any non-private fishery. That does not include children under the licensing age, or those who fall under other exemptions such as the license-free "Go Fish Day". This also carries over to record applications. When applying for a record, the angler's fishing license must be present. 
This is a key point to remember. If you attempt to claim a record without a fishing license, you shouldn't just expect to have the submission revoked and your claim dismissed, but you should expect legal problems, as well. 
This seems like a pretty common-sense concept, but there actually have been recorded incidents of illegal fishermen taking their catch right to officials expecting to get in the record books. 

Weight Restrictions: 
For a new catch to count as a record breaker, it must be at least one ounce larger than the current record holder. 
This is more lenient than some states, and even the world-record system, which requires there be a 2-ounce difference at least. It also allows for records of species that are close to their weight limits to be broken more realistically. 
Pre-Weigh-In Process: 
This is pretty simple in Iowa. Once you've caught a fish and weighed it to confirm it's larger than the current record, you need to find the fishery's on-site biologist or ranger. This is to identify the fish and make sure you haven't done anything unethical to catch the fish, and considering they're highly experienced with the local records, they might even save you some time if your fish isn't quite up to par for the record books. 
The ranger or park biologist is on-site at almost all times, and if you can't find them, you can call the number posted on the creel limit signs or park centers to get someone out to you. This is free, and the official will simply look the fish over and confirm that they've checked the fish to prevent disputes. 
You must also take a picture of yourself and the fish at the time of the catch. Again, this is a formality to help prove you caught the fish and dispel any concerns of foul play.

The Weigh-In Process: 
The Iowa Department of Natural Resources allows for fish to be officially weighed at a lot of different locations. Any nearby meat shop, grocery store, tackle shop, or similar place with a certified trade scale (the scales used to weigh food products and other items commercially sold by weight), is more than enough for an official weigh-in. The individual running the operation will witness the weigh-in, as well. 
Weigh-In Recommendations and Restrictions: 
There are some restrictions to how you're allowed to weigh fish in Iowa. 
First, it's preferred that you weigh the fish alive and as soon as you can. Iowa prefers CPR catches, and because the weigh-in rules are lenient, many record-breaking fish are released back into the fisheries they came from. 

However, if that's not possible, you can have dead fish weighed. You just can't weigh the fish while it's frozen if you decided to freeze it a weigh-in long after the catch was made. You're allowed to freeze the fish, but it must be fully thawed at the time of weigh-in. 
However, just because it's allowed doesn't mean that it's recommended. The Iowa Department of Natural Resources doesn't just recommend quick weigh-ins to support a CPR stance; the fish loses weight the longer you've got it in captivity. So, if you're driving around with a live fish for hours, you might actually be ruining your chance at breaking the record. 

The same is true, and even worse if you freeze a fish and then thaw it for weigh-in. The fish can lose a considerable amount of weight during the thawing process, and your record-shattering 5-ounce difference might very well disappear. 

For this reason, whether you plan on doing a release or keeping the fish, it's crucial that you get it weighed as soon as possible. 

Post-Weigh-In Process: 
Once the fish is weighed, you're no longer on a strict time limit. You simply need to fill out your record application. 
You can do this online with the information gathered before and during the weigh-in, or you can go to your local Iowa Department of Natural Resources office to pick up a paper application. You will be required to provide all the evidence gathered before and during the weigh-in, your photograph of you and the fish, and the records from the weigh-in location. Also, you'll have to submit your basic information, and there are some optional questions that help flesh out the details of the catch; Iowa does list the lure used and other useful tidbits when anglers provide that information. 
How Records are Displayed:
Iowa does things slightly differently than other states. In most states, the record list is simply a long, basic list of current record holders with the most crucial information available. 

Iowa honors its record holders with full-color images when available unless the angler chooses to not have a picture displayed. Beneath the image, the basic information regarding the catch is shared, and then each angler gets their own page on the state's wildlife site going into further detail. 
These in-depth records are displayed until the record is beaten. Then, the current record is replaced by the new one. More in-depth records showing previous record holders are stored off-site for historical purposes.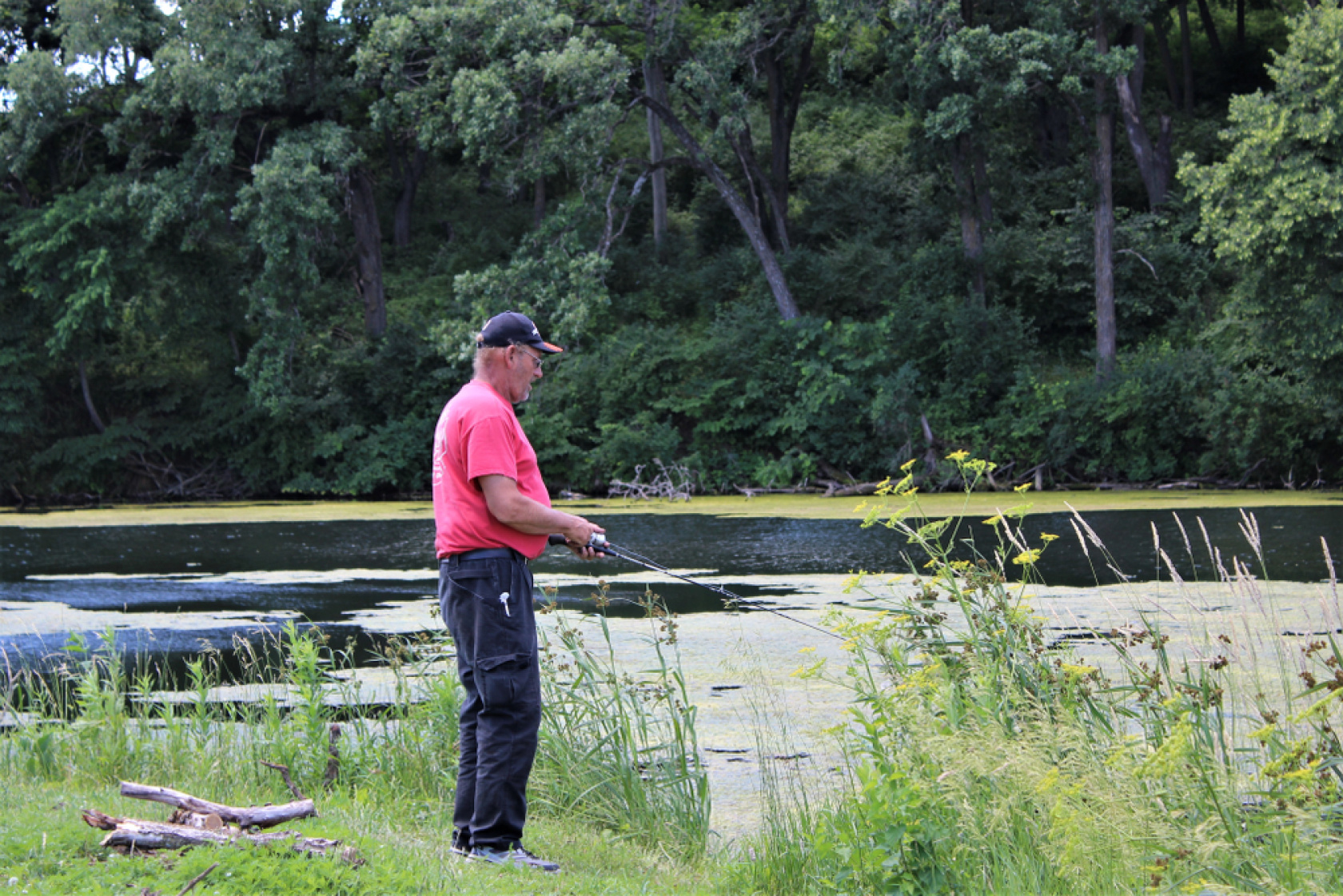 What to Learn from These Records
There is a fair amount you can learn from bass fishing records in Iowa. We won't touch on every possible bit of information, but we do want to highlight the key points you should pick up on. 
It's Not the Best Bass State: 
The bass fishing records in Iowa are, at best, average. At their worst, they are very low, and some are below even the average size of the same species in other states. The records also tend to be longstanding in those cases, and that leaves little room for hopeful record breakers. 

However, that doesn't mean it's a bad state for fishing. In fact, it's great for it. Iowa has extremely impressive records and average catches for a wide variety of fish species, and almost every species that is part of the state's extremely diverse aquatic ecosystem is recognized. 
It might not be on par with California or Texas fishing for largemouth, or even spotted bass, but there is a lot of high-quality fishing available with 60-pound records and higher on several other species of fish. 
This might entice some strictly bass-only anglers to branch out a bit and test their skills on other species. 
The Entire State has Solid Fishing: 
Iowa has a large number of public fisheries that are well-maintained, and nearly all of them hold at least one state record. There aren't any bad fishing spots, per se. If you'd like to get a rundown of which fisheries tend to produce better bass, check out our bass fishing app. 

Enticing Opportunities: 
The spotted bass record wasn't placed until 2021, and it's for a 2-pounder. For bass anglers looking to get into the record books, that would be a prime record to target, and basically, anything that isn't a fry has a solid chance of beating it. 
The State is Helpful: 
Unlike other states, Iowa does what it can to maintain its waterways and the integrity of its record system without hampering fishermen too much. As we said earlier, there is always a fish biologist or ranger nearby to verify catches, any place with a trade scale is suitable for an official weigh-in, and the state even goes above and beyond to give anglers tips on how to preserve the weight of their fish while getting it to weigh-in. 
It's a simple, yet trustworthy, system that works in the favor of record-hunting anglers. 
Huge Records Will Be News-Worthy: 

Since bass fishing records in Iowa are fairly small, and they're so long standing that they're unlikely to be beaten, you can guarantee that the sudden capture of an 18-pound largemouth will draw the attention of practically everyone. In states like California, where fish that large are caught frequently in a constant back-and-forth for state records, you don't get that.