Top 8 Bass Fishing Records in Alabama (2022 Updated)
Alabama is one of those states that always tends to come up when you're talking about bass fishing. It has a ton of absolutely astonishing waterways, the bass are abundant across several species, and of course, some real hogs come out of the state. In short, there's a good reason the large professional fishing tournaments all have stops in Alabama year-round.
Today, we want to go over some of the records that Alabama has on the books. They're fun to look at for anyone who's serious about fishing, and if you look between the lines, there are some golden nuggets of information that can help you up your fishing game, get started the right way, or even net your own record-shattering fish. 
We'll be covering more than just largemouth bass in this article, but we will be sticking to the popular bass species and bass fishing records in Alabama. Mostly, these records are for sheer size, but there might be a mention or two of tackle-specific records or neat oddball additions to the record books. 
Let's get started. 
1: Thomas Burgin: Current Largemouth Record
The largemouth bass is easily the most popular bass species among sport fishermen, and as such, we're going to start the list off with the biggest largemouth Alabama has ever produced. It's not quite the awe-inspiring specimen George Perry pulled out of Virginia, and it's definitely not Mac Weekly's Dottie. However, it's a fish most anglers dream of and never gets on their line, and it has managed to sit at the top of the Alabama record books for nearly 40 years. 
This record was set at Mt. View Lake by Thomas Burgin in 1987 when Thomas pulled out a fat-bellied bass weighing in at 16 pounds and 8 ounces. The fish was easily longer than the average person's torso, and its mouth gaped nearly large enough to stick your head in despite being several pounds smaller than the world record. 
There isn't any information available on the fishing lure used to catch this hog, or the exact equipment used, but it was a rod and reel catch worthy of the record books. 
Considering Mt. View Lake is a prime bass spot in Alabama, and it frequently churns out largemouth bass that exceeds ten pounds, every catch can potentially be a hog that breaks this record. 
2: Terry Johnson: Redeye Bass Record
Redeye bass are rarely given the respect they should get by the sport fishing community, but for those who embrace them, they can be some savage catches on ultralight or light equipment. 
Alabama also recognizes them in the record books, and there's a 22-year-old record held for them. In August of 2000, Terry Johnson caught a 3-pound 2-ounce redeye bass that had not been beaten yet. In comparison to largemouth bass, a 3-pounder doesn't sound like much. However, redeyes are typically caught around the size of large bluegill. A 3-pounder is definitely a trophy-worthy redeye that will make even an experienced angler's eyes widen.
3: James R. Stewart: Rock Bass
Rock bass isn't exactly a bass species, but they are closely related. In terms of size, they're about the same size as bluegill and smaller crappie. So, the 1-pound 6-ounce record holder that James R. Steward caught is a whopper by comparison. 
James caught his rock bass at Paint Rock River in 1995. The almost 30-year-old record isn't likely to be beaten any time soon; as it was already a phenomenal rock bass specimen well over the average weight of the species. If it does get broken, it might not make headlines, but it'll definitely be a big deal in the panfishing community and for the angler. 
4: Darrel Trawick: Shoal Bass
Shoal bass are substantially larger than the redeye and rock bass highlighted in the previous records, but they're still a smaller bass species in general. They're just slightly smaller than the average Smallie. 
In Alabama, the record for shoal bass is a mere 6 pounds and 11 ounces. Bigger ones have been caught, though. Georgia's current record is more than eight pounds. 
This record was set by Darrel Trawick in 1996, and it was caught at Halawakee Creek. There isn't any information available on it, but it's safe to assume the fish was caught on live bait or panfishing lures with your run-of-the-mill medium equipment. It's unlikely that Darrel was running the type of bass rods we tend to use today. 
5: Owen F. Smith: Smallmouth Bass
Smallmouth bass, or the affectionately named "Smallies", is the second most popular bass among sport fishermen. They're smaller than largemouth, but they can put up one heck of a fight, and they're still large enough to impress even the most jaded trophy fishermen. However, they're not as common as largemouth, and they tend to be a bit pickier. You certainly won't catch one dangling a random object around in the water like you can young, dumb largemouth that hasn't been hooked before. 
In Alabama, Owen F. Smith holds the Smallie record with a 10-pound 8-ounce Smallie he caught at Wheeler Dam's tailwater in 1950. This record is more than 70 years old, and it's one of the larger Smallie records in the United States. 
With this being a 1950s record, there isn't much information about it. Keep in mind that Field and Stream magazine had just started keeping records a little over a decade earlier after George Perry's famous catch, and our modern record-keeping methods hadn't been developed yet. So, there aren't any pictures, and the information surrounding how Owen caught the Smallie isn't nearly as in-depth as what you'd get from such a substantial catch if it were made in the modern era. 
This also isn't a record that's likely to be broken anytime soon. The average Smallie is about five to seven pounds. So, breaking this record would require a tremendous fish.  
6: Phillip Terry: Spotted Bass
Spotted bass are almost as popular as Smallies in some areas. They're roughly the same size on average, and they have similar characteristics when it comes to the fight they can put up. 
Alabama's spotted bass record isn't as impressive as its Smallie record, but it is fairly substantial. 
Phillip Terry caught an 8-pound 15-ounce spotted bass at Smith Lake way back in 1978, and no one has touched it, yet. 
This one is a little more realistic to beat. While it's not common for spotted bass to get this large, fish that get close are caught fairly commonly. So, make sure you bring a scale along.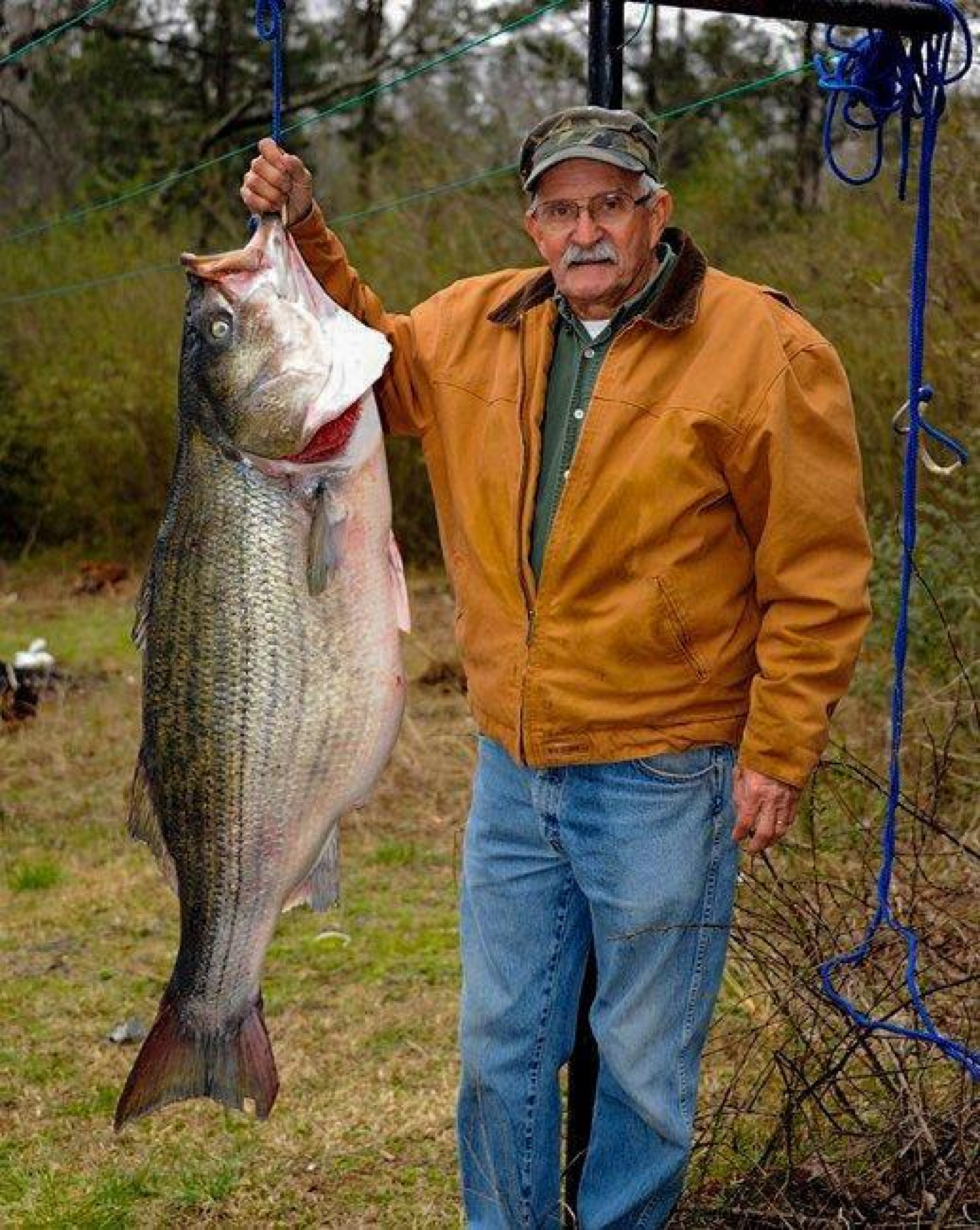 Image source: Wired2Fish
7: James Bramlett: Striped Bass
Striped bass are unique. They move from saltwater to freshwater with ease, and like most things that mess around near the ocean, they tend to get pretty large. This 2013 record-breaker is specifically for landlocked striped bass in Alabama. That means that the bass was caught in a body of water that does not have access to the tributaries and runoffs that would allow the bass to get out near the ocean and fatten up on the larger selection of meal fish out there. Larger bass have been caught in saltwater near the region. 
James Bramlett's landlocked striped bass record is for a 69-pound fish he caught at Bankhead Reservoir in 2013. For landlocked striped bass, this is absolutely massive. In fact, it's larger than the current world record by almost two pounds if it is officially recognized by the IGFA, and looking at pictures of the fish, it's easily larger than most 9-year-old children. This remarkable catch beat the previous 55-pound Alabama record that was set in 1959. 
Beating this record would be a hard task. Not only is it world-record worthy, but it's specifically for landlocked striped bass; bass that are less common and usually don't get quite that large despite being the largest bass you can catch in the United States.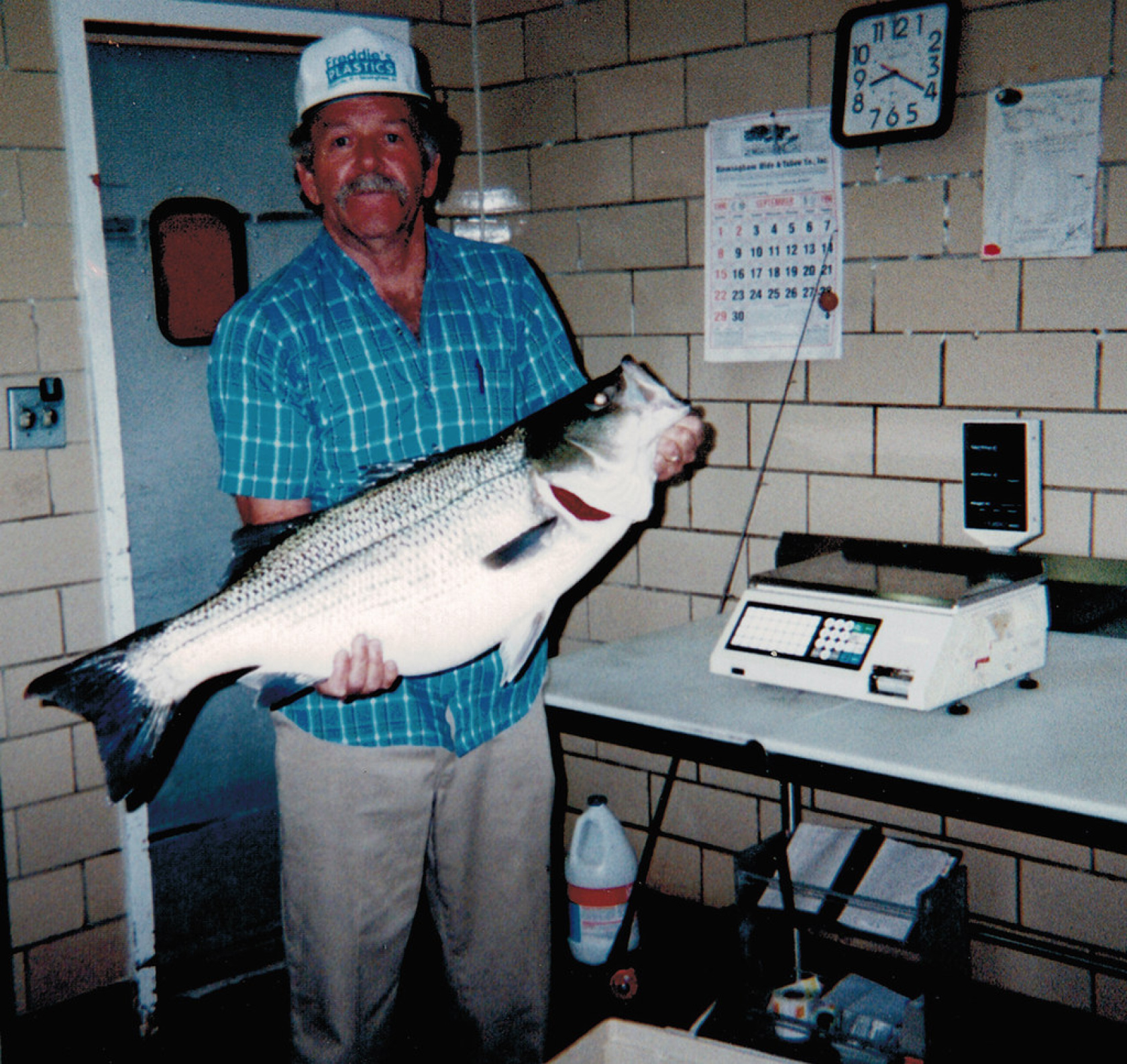 Image source: Flickr
8: E.H. Hodgins: Hybrid Bass
Hybrid bass are what you get when the massive striped bass comes inland and mates with smaller white bass; although, some fisheries intentionally breed them, and there are hatcheries that breed them for stocking in various lakes. 
Hybrid bass share characteristics of both their parent species and they are a nice middle ground between the largest largemouth bass and the smallest striped bass in terms of size. 
This 25-pound 15-ounce record was placed by E.H. Hodgins in 1996 at Sipsey Fork, and it's among the top hybrid bass records in the nation. 
With this being a mid-90s record, the amount of information regarding the catch is relatively slim by standards when anglers will give a step-by-step rundown of the catching method and equipment used, but it is officially in the DNR's record books, and it's one of the few massive records that aren't constantly contested by other anglers. 
How These Records Help You: Tips for Record-Breaking
If you're an experienced angler, just seeing these fish is enough to provide plenty of entertainment value. However, beginners and pros alike can learn from these records. 
Here are a few things you should be picking up on by going through bass fishing records in Alabama. 
Location is Important, but Not Necessary: 
It's no secret that fishing in a bad spot is unlikely to produce any worthwhile catches. Anyone with a small, shallow, and polluted local watering hole knows that. However, these records show that, just because a state has one great spot, doesn't mean it's the only spot. Record-breaking fish have been caught all over Alabama. It's more about finding a clean, well-maintained, fishery that is properly regulated than it is to simply copy whatever spot the record breakers happened to be at. 
Largemouth aren't Everything: 
Everybody wants the largemouth record held in their name. That's just what the popularity of the fish has done to sport fishing. However, that also makes sport fishermen, or even casual fishermen, turn their noses up when they catch irregularly large specimens from other species. Take the redeye record for example. A lot of "largemouth only" fishermen would have kicked that "hog" back without a second thought. In fact, somebody probably did. Keep your scale on you, and weigh those less sought-after basses; they might be your ticket into the record books. 
Gear isn't Everything: 
Go on YouTube, read any of the big fishing magazines, or just check out your local tackle shop. We guarantee anything involving tips on catching big bass will rely heavily on gear choice. Why? It sells products. 
However, if you look at the record books, specifically the older records, you'll notice that people have been reeling in massive bass since well before we had ultra-heavy casting rods with high-tech invisible lines and $80 swimbaits available. 
With the right skills and the right spot selection, you can bring in a record-breaker without going bankrupt. Don't let the cost of modern fishing turn you away from pursuing records. 
Scales are Key: 
Finally, and we touched on this earlier, you should be weighing everything that remotely resembles a record-breaker. Most of the current records on this list only beat the previous records in their category by a couple of ounces. You're not going to pick up on that with a simple "feeling" test. You need to weigh the fish on the spot and see what you're dealing with. Even the small fish that have more easily broken records should be weighed. That lightweight shrimp of a fish might just be the largest ever reported to the DNR if you bother to weigh it. 
A good digital scale in your tackle box takes up barely any room, and it can be used on the spot while catch-and-release fishing. So, you don't have to risk taking a run-of-the-mill fish anywhere to have it weighed just to find out you could have returned it to the water properly. 
BassForecast can Help
If you're a beginner or even a pro, you can always use more information to boost your skills and increase your chances of catching big bass. 
At BassForecast, we offer guides and gear rundowns to help you learn, and our top-of-the-line fishing app will provide you with maps, weather projections, fishing forecasts, solunar information and tons of other useful information you can use to optimize every fishing trip.